Doña Cándida name was not chosen at random: as people of this village well know, Doña Cándida and his family were the owners of this house.

She was a teacher from the Girls' school of the village. Doña Cándida married with Don Bernardo, who dedicated his life to cultivate the land with local products like almonds, olives and grapes. His son, also a teacher, moved to Barcelona.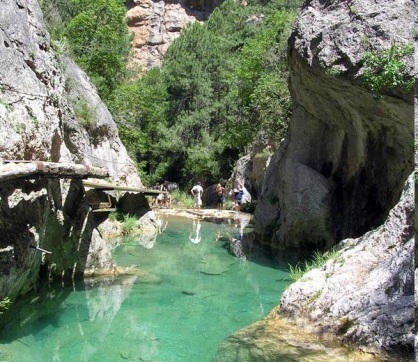 The memories of that special flavor of the meals prepared in the wood stove, or those days of going to bath in the river, fishing and going with the bike along the country roads is the reason that led the grandchildren of Doña Candida to restore this house, so they can share with everyone the essence of a familiar holidays, recovering a piece of all those memories.
The apartments are located on the first and second floor, which is where the old family home was. Also, between the ground floor and the attic we can find the cellar, the drying room hams, the post office, the henhouse, the pantry, the quartet to store school supplies, etc.
Furthermore, some years ago, in front of the house they had a garden, a laundry with water from the ditch and rabbits.
You can be sure that in Doña Candida you will find all the comforts of modernity and the uniqueness of ancient elements that will transport you to another time.